Kids Size Chart
SIZE CHART
How to Measure Sizes for Kids Apparel
Choosing the correct sizing for kid's apparel is important for comfort and movement. Following a sizing chart can help you get a good fit for children's clothing.
Not all clothes sizes are created equal. Depending upon where the clothing is manufactured will make a difference in how it is sized, for instance Korean imported kid's apparel would be sized differently than American clothing. The most typical sizing for kid's apparel can be labelled according to age, height and number sizes. The following measurements will help you find just the right size for your kid's clothes.
Kid's Apparel Sizes
When checking a clothing size chart, measure your child's waist, chest and height. Most sizing charts will provide these measurements beside the kid's sizes, so you can choose the best fit for clothing. The chart below gives you an idea of different sizes available for kid's apparel.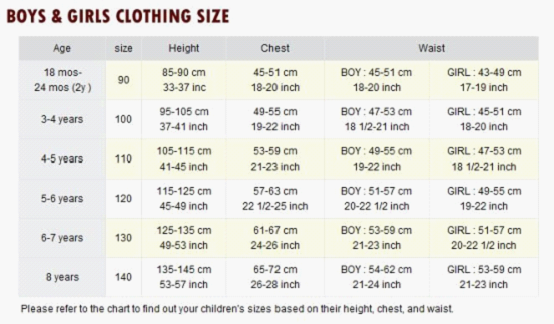 Measuring Tips for Kid's Apparel
Measure your child's chest. Have your child hold his or her arms by her side and slide a measuring tape under her arms. Pull the measuring tape across her chest and around to the back, over the shoulder blade. Take the measurement in the middle of the back, between the shoulder blades using either centimetres or inches.
Take your child's waist measurement. Measure your child's waist just above the hips , holding the tape measure around his waist, making sure it is not too tight and not too loose all the way around. Make note of the measurement.
Your child's height is very important when measuring for clothes. Using a tape measure, measure from the top of your child's head to the floor. Use this measurement for the height calculation on the size chart. Boys and girls sizes vary slightly.
Using these measurements, check the kid's sizing chart and determine which size best fits your child's measurements. If you purchase from an online store that carries Korean imported kid's apparel, you would use the sizing 90 to 140. If you purchase clothing from an American store, you would use US sizes 2 to 8. Check the store-sizing chart for more detailed information on kid's apparel sizes. Some online clothing stores also have service representatives that can chat with you online and help you with any measurement questions you might have.
If your children's measurements fall somewhere between two sizes on the chart, it is better to go up to the next size, rather than down to the smaller size. Kids grow so fast that you want them to get as much wear from the clothes as possible. Choosing the next size up allows for growth and also from any shrinking that takes place when washing clothes. It's also a good idea to choose a bigger size for added comfort and room for your kids to run, jump and play without tight fitting clothes.
Size Chart head Circumference